Pneu-Con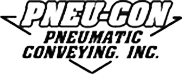 Providing innovative and economical bulk handling equipment for more than 20 years including vacuum conveying, pneumatic conveying, vacuum loaders, vacuum pumps, vacuum blowers, dryers, bulk storage systems and receivers. Pneu-Con products and systems are sold through J&B Industrial in the Pennsylvania, West Virginia and Upstate New York markets.
Mining
Manufacturing
Biotechnology
Agriculture
Plastics
Chemical
Pneu-Con Self Contained Vacuum Conveying Systems
Pneu-Con offers complete Central Powered Conveying Systems to transport material from one or more source locations to a single station or multiple use destinations. These systems are designed to handle a broad range of rates depending on your applications, utilizing one or multiple blower packages and a dedicated control panel.
Pneu-Con Powder Receivers
Our Powder Receivers provide dust-free handling of fine and difficult-to-handle powders. Pneu-Con Powder Receivers are constructed from spun aluminum, stainless steel or carbon steel. Abrasion-resistant design options are available upon request.
Pneu-Con Whisper Loaders
Whisper loaders are self-contained vacuum conveying systems. They work automatically to maintain a constant material level in day bins or receiving hoppers that are located above injection, extrusion, or blow molding machines.
Pneu-Con Shur-Shot Loader
Available in aluminum or stainless steel construction, our loaders are ideal for clean rooms – no conveying air or dust is released from the loader during conveying.